Watermelon cupcake recipe
Ingredients:
Cupcakes – makes 10-12 cupcakes
6 tbsp butter, softened
2/3 cup sugar
3 egg whites
1/2 cup sour cream
1 tsp vanilla extract
1 cup + 2 tbsp all purpose flour
1 & 1/2 tsp baking powder
1/4 tsp salt
leaf green food coloring by wilton (or similar light green food coloring)
Buttercream
2 sticks of butter, unsalted at room temperature
1/2 cup vegetable shortening
3-4 cups powdered sugar
3/4 tsp of powdered watermelon koolaid mix
small about of red food coloring, to give the buttercream a pinkish color
mini chocolate chips
Directions:
Cupcakes
Preheat the oven to 375º F. Place cupcakes liners to muffin pan.
In a mixing bowl, combine the butter and sugar, beat using an electric mixer until fluffy. Add in the egg whites, beat again.
Add in the sour cream and vanilla extract, mix by hand with spatula.
In a smaller bowl, combine the flour, baking powder and salt, gently mix with a spoon.
Gradually add half of the flour mixture to the wet ingredients, do not dump it in, rather take spoonfuls of the flour mixture and gently shake it over the wet ingredients, as if you were sifting in the flour. Fold in the mixture until no flour remains. Repeat with the other half of the flour, folding it in and scraping the sides and bottom of the bowl to incorporate everything.
Add in the green food coloring, mix to incorporate.
Divide the batter among the cupcake liners, filling each 1/2 full.
Bake at 375º F for 5 minutes, then reduce heat to 350º will keeping the cupcakes in the oven and bake for 8-10 minutes or until a toothpick comes out clean when inserted into the center of a cupcake.
Allow the cupcakes to cool before adding the buttercream.
Buttercream
In a mixing bowl beat the butter and vegetable shortening with an electric mixer until smooth, about 2 minutes.
Add in 2 cups of powdered sugar, mix by hand with a spatula.
Add in more powdered sugar as you see fit, up to 2 more cups, mixing first by hand then with an electric mixer.
Add in the watermelon kool aid powder and a small amount of red food coloring (to give the frosting a pinkish color), mixing one last time with an electric mixer.
How to assemble
Place the buttercream in a large piping bag fit with a 1m wilton piping tip. Push the buttercream down into the bag. Pipe the buttercream onto the cupcakes, starting in the center of the cupcake, swirling out, and then swirling back into the center, progressively stacking the frosting as you get to the center.
Add mini chocolate chips on top of the buttercream.
Watermelon Jello Picture Tutorial 
Here are the things you will need:
ingredients
6 Tablespoons butter, divided in 2
6 cups mini marshmallows, divided in 2
8 cups Rice Krispies, divided in 2
Green & red food coloring
chocolate chips or raisins for "seeds"
1. Melt 3 tablespoons butter in a large saucepan over medium heat. Add 3 cups mini marshmallows & stir until melted. Remove from heat & stir in some green food coloring until its the color you want. she just poured a bit from the bottle. she didn't measure but it was probably about 1/2 teaspoon. Stir in 4 cups Rice Krispies until completely coated.
2. Scoop green Krispies mixture into a well buttered 9 inch round cake pan. Butter your hands or a spoon and press it around the outer edge of the cake pan to form a ring. Set aside. Wash your large saucepan so you can reuse it for the red.
3. Repeat step 1 except add red food coloring.
4. Scoop red Krispies mixture into the center of the cake pan. Press to be level with the green outer ring.
5. After mixture completely cools place a few raisins or chocolate chips on top as seeds. Turn pan upside down to remove from pan. Slice into wedges & serve or put them on lollipop sticks & package for gifts.
Amazing Watermelon Cakepop Recipe
by homemaderecipes.com
Ingredients:
2 1/4 cups baked red cake
1/3 cup buttercream frosting
white candy melts
green candy melts
¾ cups mini chocolate chips
green food colouring (for painting)
Instructions:
Add cake to a large bowl.
Break it up until it resembles fine crumbs.
Add in the frosting and mini chocolate chips.
Use your hands to mix everything together.
Scoop out small balls of the cake mixture and roll them tightly.
Place the balls on parchment paper on a tray.
Repeat this process until all the cake mixture is used up.
Melt the white chocolate in the microwave.
Dip the tip of the cake pop sticks into the white chocolate and then insert them into the cake balls about half-way.
Let the chocolate dry.
Once dry, dip the entire cake pop into the white chocolate. Let the excess chocolate drip off. Swirl and tap gently if needed.
Place all of the cake pops back on the parchment or wax paper to let them dry. You may put in the refrigerator to get the pops to dry quicker.
While chilling, melt the green chocolate.
Bring out the dry cake pops and dip them into the green chocolate.
Once you're done, place all the cake pops back in the fridge.
Get a brush and the green food colouring and paint vertical lines on your pops.
Let them dry.
You now have watermelon cake pops!
I found this other picture tutorial however their link was not working 😦
But you could probably use as a referral

Ingredients (about 1 sheet) – Care: long cooling time
125 g butter
125 g of sugar
Some drops of vanilla flavor
1 egg
250 g flour
+ Food color (paste) in red / pink, green and white
+ Small, flat chocolate
From the above ingredients you first make a normal cookie dough. The procedure does not change in comparison to, for example, the biscuits from this post ( 
click
 ). You have to split the finished dough. You need 3 dough portions.
So you split up your dough. In brackets I have added how much my pastries have actually weighed:
3/5 red ( 300 g )
Slightly less than 1/5 white ( 110 g )
Slightly more than 1/5 green ( 130 g )
This is really only a rough relationship and if you do not keep it exactly, then your melon cookies are still pretty.
Here is a little tip : I often had the problem that I did not get a real red. Often it looked pale and turned orange. This time I mixed red and pink food color in the ratio 2: 1 and that worked great. So intensively I have the red color before never hinbekommen.
After you have digested all the dough portions, they must be stored in a freshly wrapped film for about 2 hours in the refrigerator. From the red dough you form a small cylinder.
If the dough is nice, you can roll your cylinder a bit on the work surface to make it really nice.
Then you roll out the bright dough squarely. It should be as wide as the cylinder is long so you can wrap it around and cover the whole red cylinder. Brush the pastry with some milk, then stick the dough colors together better. Repeat this with the green dough. Wrap it all up again in fresh foil and presses the cylinder together well and rolls it, so that the colors stick together well. This roll must then again for 1-2 hours in the refrigerator.
If the roll is strong enough, you can cut it with a large knife. Then halve them, so that you get 2 half circles. Now press the chokotto into the "red pulp".
Bake the cookies at 175 ° for about 10 – 12 minutes . Then they have to cool down briefly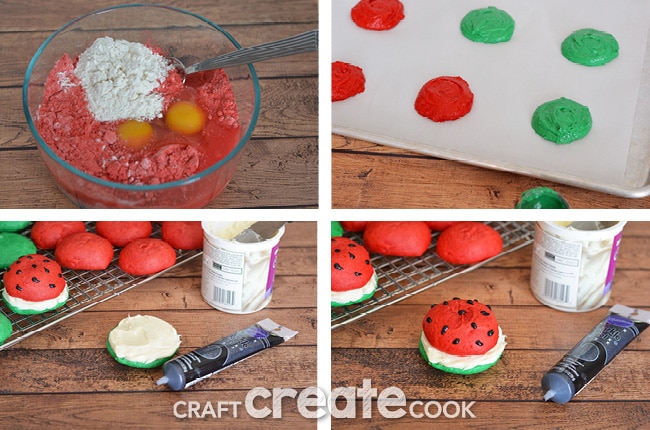 Ingredients
1 package (8.25 oz) Pillsbury Funfetti Vibrant Green Cake Mix 1 package (8.25 oz) Pillsbury Funfetti Radiant Red Cake Mix 1 cup flour, divided 4 eggs 1 cup water, divided 1 tub white frosting Wilton Sparkle Gel in Black Instructions 1. Preheat oven to 350. Line a baking sheet with parchment paper. Set aside 2. Pour the green cake mix into a bowl and add ½ cup flour, 2 eggs and ½ cup water and mix well. Use a spoon to spoon about 2 Tablespoons of batter onto the prepared pan. Spread the batter out to make a nice 3″ circle. 3. Bake for 9 minutes or until golden brown on the bottom. Cool completely. 4. Repeat with the red cake mix. 5. Once both colors are cooled, place a generous dollop of frosting onto the green pie and press the red pie on top of it. Decorate the top of the red cake with black sparkle gel to look like seeds.